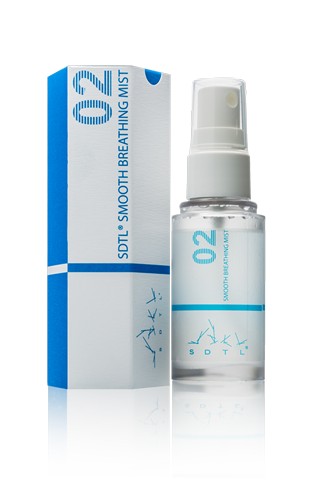 SDTL® Smooth Breathing
Mist
Alleviates nasal allergy, Improves health of respiratory system
SDTL® Smooth Breathing Mist contains pure natural plant extracts, together with innovative SDTL® small biomolecule technology, rich amounts of Boswellia extract and natural plant polyphenols are combined into the spray. Simply spray onto the skin around the nose and the throat to relieve nasal allergic symtoms such as nasal congestion, nasal and throat dryness, running nose, sneezing and throat itching.
In addition, SDTL® small biomolecule can quickly penetrate the skin to reach the cell core for cell repairing, this will help the body's self healing, enhance the health of the airway, throat and respiratory system, and improve immunity in the respiratory system.
(Click here to enter SDTL® HK Official Store Online. Products shown in SDTL® shop website are available for customers in HKSAR only. Customers from overseas, please send email to [email protected]. Customers in Mainland China, please visit SDTL® WeChat Official Account or send email to [email protected].)
1. Quickly alleviate nasal allerg
Clinically tested, 15 minutes after using SDTL® Smooth Breathing Mist, running nose was significantly improved in around 90% users*. The ingredient, Boswellia extract, can alleviate nasal allergy symptoms such as running nose and nasal congestion.
2. Improve health of respiratory system
Another important ingredient-Olive polyphenol has anti-inflammation and anti-oxidizing abilities. It can suppress free radical formation and prevent free radical damage in the upper respiratory tract. It also enhances immunity and improves the health of the upper respiratory tract.
Purified Water, Daucus Carota Extract, Rosa Rugosa Extract, Boswellia Sacra Extract, Olea Europaea Polyphenol
Main Ingredient: Boswellia Extract – The frankincense scent helps to calm emotions and relieve anxiety. In addition, it regulates blood circulation, soothes symptoms of respiratory discomfort such as nasal dryness, running nose nasal, itchy and dry throat.
✽ All Pure, Natural and Wholesome Ingredients only.
✽ No Sythetic Chemicals, Coloring or Fragrances.
✽ No Animal Derived Ingredients or Animal Testing.
Please read entire leaflet before use. Can be used daily or as often as needed.
1. Shake it well before use to activate small biomolecules to release fresh energy.
2. Spray 5 cm away from the spraying area.
3. Spray directly on the skin around the nose and throat , then gently pat the sprayed area 1-2 times.
*This is a natural product, some settling may occur, please shake well before use.
Celebrity Wesley Wong Sharing