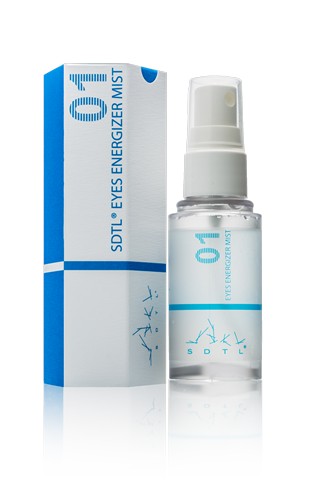 SDTL® Eyes Energizer
Mist
Mositurizes the eyes, Rejuvenates skin around the eyes
SDTL® Eyes Energizer Mist contains rich amounts of Carrot extract and Eucalyptus extract. Using the innovative SDTL® small biomolecule technology, the ingredients are applied just by simply spraying on the eyelids to inject oxygen into the eyes, relieve tiredness of the eyes and moisturize the eyes. Lemon polyphenol can facilitate eye microcirculation, reduce swellness and fine lines around the eyes. Apart from effective eye protection, it also brings back the brightness of the eyes.
(Click here to enter SDTL® HK Official Store Online. Products shown in SDTL® shop website are available for customers in HKSAR only. Customers from overseas, please send email to [email protected] Customers in Mainland China, please visit SDTL® WeChat Official Account or send email to [email protected])
1. Alleviate eye dryness, eye fatigue and eye wrinkles
Clinically tested, with the use of tear film break up time as an indicator, above 70% users with moderate to severe dry eye significantly improved eye dryness 15 minutes after using SDTL® Eyes Energizer Mist. Above 80% users agreed the product significant reduced eye fatigue and improved eye comfort.
2. Fight against eye wrinkles and eye bags
Skin around the eyes are very delicate. They lack sebum secretion for lubrication and get dried easily, leading to wrinkles. Eucalyptus extract can deeply moisturize the skin around the eyes, thereby preventing the formation of crow's feet and expression lines.
Purified Water, Carrot Extract, Eucalyptus Extract, Lemon Polyphenol, Foeniculum Vulgare Extract, Monounsaturated Fatty Acids
Main Ingredient : Carrot Extract – Rich in carotenoids and vitamin A, it is an indispensable nutrient for the eyes protection and enhancing vision. It can sustain clear vision, prevent vision loss, help tear secretion, and nourish the eyes. In addition, the antioxidant properties of carrot extracts can eliminate free radicals and protect the health of retinal cells.
✽ Contains only Pure, Natural Ingredients.
✽ No Sythetic Chemicals, Coloring or Fragrances.
✽ No Animal Derived Ingredients or Animal Testing.
Please read entire leaflet before use. Can be used daily or as often as needed.
1. Shake it well before use to activate small biomolecules to release fresh energy.
2. Spray 5 cm away from the eyes.
3. Close eyes and spray directly onto each eyelid , then gently pat the sprayed area 1-2 times.
*This is a natural product, some settling may occur, please shake well before use.
Celebrity Wesley Wong Sharing