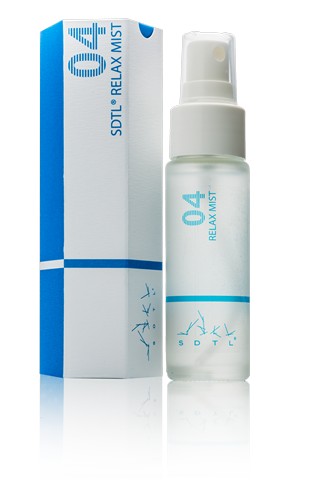 SDTL® Relax
Mist
Relaxes the mood, Relieves stress and helps to sleep
SDTL® Relax Mist contains highly biologically active Oleuropein , making use of innovative SDTL® small biomolecule technology, it can quickly penetrate the skin to reach the cell core for antioxidation and play a two-way regulatory effect.
The purely natural ingredients can help relieve tension and at the same time deeply relax the mind. Simply one spray, you can relieve stress and have a good sleep.
(Click here to enter SDTL® HK Official Store Online. Products shown in SDTL® shop website are available for customers in HKSAR only. Customers from overseas, please send email to [email protected]. Customers in Mainland China, please visit SDTL® WeChat Official Account or send email to [email protected].)
Relax the mood, relieve stress and help to sleep
SDTL® Relax Mist contains Oleuropein, which can protect the nervous system. In addition, Oleuropein has high biological activity and antioxidation ability for relaxing the mood, relieving stress and helping to sleep.
Purified water, Linolenic Acid, Olivene, Olive Polyphenol, Oleuropein
Main Ingredient : Oleuropein – olive leaf extract. Some research reports showed that Oleuropein contain high biological activity and strong antioxidant effect which scavenge free radicals, strengthen immunity for relieving stress and helping to sleep.
✽ Contains only Pure, Natural Ingredients.
✽ No Sythetic Chemicals, Coloring or Fragrances.
✽ No Animal Derived Ingredients or Animal Testing.
Please read entire leaflet before use. Can be used daily or as often as needed.
1. Shake it well before use to activate small biomolecules to release fresh energy.
2. Spray 5 cm away from the face.
3. Spray directly on the face , then gently pat the sprayed area 1-2 times.
*This is a natural product, some settling may occur, please shake well before use.