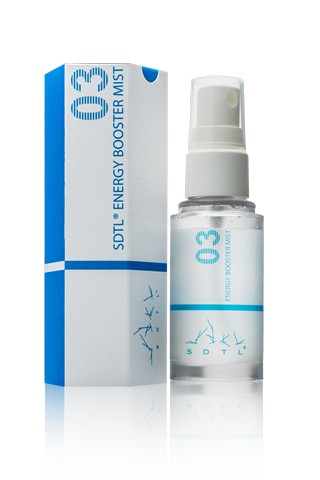 SDTL® Energy Booster
Mist
Balances immunity, Improves sensitive skin
SDTL® Energy Booster Mist ingredients are extracted purely from natural plants, making use of innovative SDTL® small biomolecule technology, they can quickly penetrate the skin to reach the cell core. Artemisia Argyi Extract has mind refreshing qualities, it can also activate SOD anti-oxdation activity, restore cell vitality, promote blood circulation, enhance red blood cell oxygen carrying capacity, improve body functions and balance immunity!
Feeling tired the whole day, unable to concentrate and feeling sleepy? These are signs of lacking oxygen. With a simple spray, immediately 'charge up' the brain , quickly restoring the mental state and feel totally refreshed!
(Click here to enter SDTL® HK Official Store Online. Products shown in SDTL® shop website are available for customers in HKSAR only. Customers from overseas, please send email to [email protected]. Customers in Mainland China, please visit SDTL® WeChat Official Account or send email to [email protected].)
1. Mind refreshing, Balance immunity
SDTL® Energy Booster Mist contains Artemisia Argyi Extract, which can enhance red blood cell oxygen carrying capacity, restore cell vitality, improve blood circulation, improve body functions through increased oxygen utilization and balance immunity! Artemisia Argyi Extract can also increase energy level and restore the mental state.
2. Alleviate skin itching, allergy and inflammation
SDTL® Energy Booster Mist contains 2 ingredients effective for alleviating skin inflammation and allergy problems. Referring to historical records, Artemisia argyi can be used to relieve pain, expel coldness and prevent diseases. Olive polyphenol can significantly reduce erythema and therefore it is effective in alleviating eczema symptoms.
Purified water, Linolenic Acid, Olivene, Olive Polyphenol, Oleuropein
Main Ingredient : Oleuropein – olive leaf extract. Some research reports showed that Oleuropein contain high biological activity and strong antioxidant effect which scavenge free radicals, strengthen immunity for relieving stress and helping to sleep.
✽ Contains only Pure, Natural Ingredients.
✽ No Sythetic Chemicals, Coloring or Fragrances.
✽ No Animal Derived Ingredients or Animal Testing..
Please read entire leaflet before use. Can be used daily or as often as needed.
1. Shake it well before use to activate small biomolecules to release fresh energy.
2. Spray 5 cm away from the face.
3. Spray directly on the face , then gently pat the sprayed area 1-2 times.
*This is a natural product, some settling may occur, please shake well before use.
Celebrity Wesley Wong Sharing